---
This web page begins here
---
CONTEST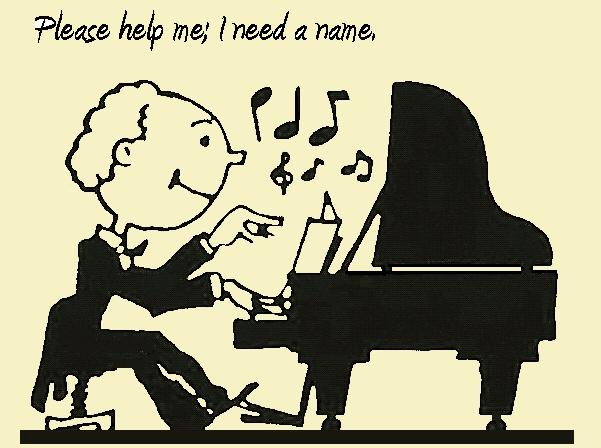 A FINE TUNE
PIANO TUNING AND REPAIRS
Phone: (561) 432-4121
Serving Palm Beach County and northern Broward County, Florida

---
Wallace T. Scherer * Piano Technician * Music Educator
Serving professional and amateur musicians since 1979
---
For several years, A FINE TUNE has used as part of its logo a drawing of a man playing the piano.
Recently, my wife and I have thought that it would be nice to have a name for this little man, but we couldn't think of an appropriate one. Therefore we have decided to open up the naming process to our customers in the form of a contest. Here's how it works:
Each customer has one entry opportunity. A customer is one person from the household where the piano is that I service, or in the case of an organization, the person in charge of the piano. If I service more than one piano for the customer, a separate entry can be made for each of those pianos.
After all the entries are received and reviewed, my wife and I will decide which one we like the best, and that customer will be the winner. In the case where the winning name was submitted by more than one customer, a random drawing will be held among those entries to determine the winner.
The winner will receive his choice of $25.00 in cash or $50.00 discount on his next piano tuning.
Look at the little man; think about an appropriate name. When you have decided on the name, click on the "Sign My Guestbook" link and fill in the requested information. In the final comments section, please state your reasons for picking that name. (That may help influence us.) Or, if you wish, you can send it to me on paper. Be sure to include your name, address, and phone number. Send to: A FINE TUNE, 5020 Canal Drive, Lake Worth, Florida, 33463.
Thanks!
Wally

Sign My Guestbook
---
Back to A FINE TUNE main page.
---
copyright 2010 by Wallace T. Scherer
---
---
This web page ends here.

---