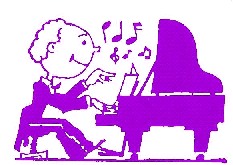 A FINE TUNE
In Home Piano Lessons
Beginning piano lessons for children (from age 7) and adults (all ages). In your home. Serving approximately 10 mile radius from the corner of Canal Drive and Haverhill Road Extension. (Near Hypoluxo and Military.) See map below for approximate coverage area.
Cost - $35 per half hour lesson. Wallace T. Scherer, BS Music Education, 1974.
For more information and to schedule an evaluation lesson, call 561-432-4121.
Click to Call