---
This Web Page Starts Here.
---










A FINE TUNE
---
Installing your 100% Wool String Cover
---
To install your String Cover, lift the lid of your grand piano and prop it open in the highest position.
Remove the music desk from the piano. You may need to close the fallboard (key cover) first. The music desk may slide off to the front, or it may lift up. Some desks have to be slid forward or backward while lifting so a catch will pass through a slot. Some models may have a screw which must be removed before the music desk comes off.
Open the package and turn the string cover right side up and spread it out inside the piano with the sticks in their sleeves on the under side, and the two straight edges of the cover on the left and front. Push it as much as possible all the way to the edges, all the way around the inside of the piano, so it covers the whole inner area, including the strings, plate, and tuning pin area.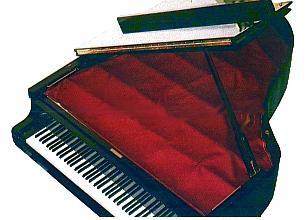 Replace the music desk and fallboard. If you had to remove a screw to remove the music desk, you will probably have to punch a hole in your string cover so the screw will go back in its place. Remove the string cover only for cleaning, or on those occasions when you want to show off the pretty, clean interior of your piano. The lid may be left up or down according to your preference.
When the cover needs cleaning, remove it and brush it off. If you need to shake it outside, remove the sticks first. If it is soiled, it should be dry cleaned. Don't loose the sticks - best to leave them inside the piano, off to one side. Also, when removing the sticks, remember their position, so you can replace them correctly.
Ordering information
---
Copyright 2010 by Wallace T. Scherer
---
End of this web page.
---

Free search engine submission and placement services!
---