Pianos serviced: Steinway, Baldwin, Yamaha, Petrof, Bechstein, Young Chang, Kimball, Wurlitzer, Weber, Boesendorfer, Samick, Acrosonic, Chickering, Everett, Howard, Knabe, Kohler & Campbell, Mason & Hamlin, Schimmel, Stieff, Story & Clark, Whitney, Winter, Cable, Sohmer, Kawai, Charles Walter, Lowrey, Janssen, Aolean, Seiler, Gulbransen, Pleyel, etc.

Areas served: Boca Raton, Lake Worth, Lantana, Boynton Beach, Palm Beach, West Palm Beach, the Acreage, Royal Palm Beach, Loxahatchee, Delray Beach, Palm Beach County, Wellington, Belle Glade, South Bay, Palm Beach Gardens, Jupiter, North Palm Beach, Juno Beach, Riviera Beach, Lake Park, Quail Ridge, Atlantis, Greenacres, Lake Clarke Shores, Manalapan, Jupiter Island, Highland Beach, Deerfield Beach, Pompano Beach, Lighthouse Point, Coconut Creek, Margate, Coral Springs, Parkland, etc.
---
This web page begins here
Click for mobile version
© 2010
---










A FINE TUNE
PIANO TUNING AND REPAIRS
SERVING PALM BEACH COUNTY AND NORTHERN BROWARD COUNTY, FLORIDA
Phone: (561) 965-8090
---
Wallace T. Scherer * Piano Technician * Music Educator
Serving professional and amateur musicians since 1979
Registered with Florida Department of Revenue

---
Página en español (Sí, hablo español.)
---
"A very high quality tuning. Wally keeps our piano in good adjustment. Friendly and efficient. I have recommended Mr. Scherer to all my students and have gotten great feedback from all of them." Laura W., Piano Teacher, Palm Beach Gardens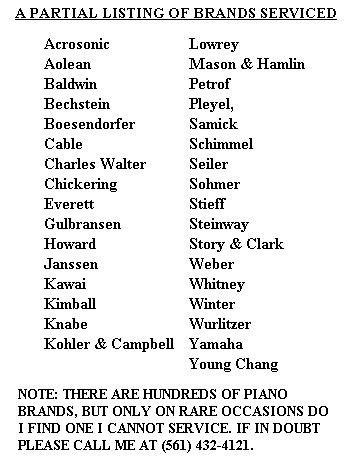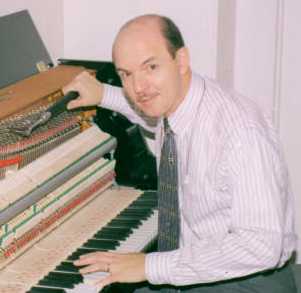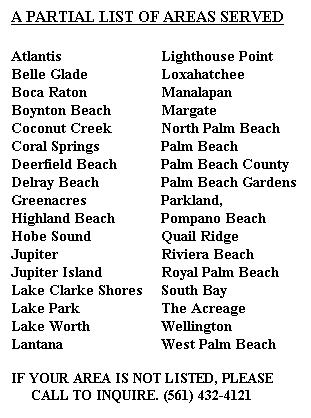 ---
What is piano tuning? (Plus questions to ask)
More detailed information on services offered.
Give a Piano Tuning Gift Certificate.
---
BACKGROUND INFORMATION
In 1979, while living in Norfolk, Virginia, Mr. Scherer began a course of studies in Piano Tuning, Repair, and Regulation. Following a two year term of missionary service, he moved to Bartow, Florida where he continued his studies to become a piano technician, receiving his diploma from the American School of Piano Tuning in January 1982. He began servicing pianos in homes, schools, and churches, first in Florida, and then in Texas while also preparing for further foreign missionary work. During the years he served as a missionary Mr. Scherer also tuned and repaired pianos on a part-time basis.
In May of 1996 Mr. Scherer returned to the United States and resided in Norfolk, Virginia where he began a full-time piano tuning and repair business which he named A-1 Piano Service. He served hundreds of satisfied customers, including churches, schools, music teachers, and Norfolk State University. In 1999, he moved to Palm Beach County, Florida, in order to be near his parents. He named his new piano tuning business A FINE TUNE.
Mr. Scherer is an associate member of the Piano Technicians Guild, a professional organization which seeks to promote the highest technical and ethical standards among piano technicians. He has served as secretary of the Palm Beach chapter. By attending local chapter meetings, regional and national conventions, and reading the Guild's monthly journal, he is continually upgrading his knowledge and skills to enable him to more effectively serve piano owners. Customer satisfaction is a high priority!
Call (561) 432-4121 NOW for an appointment!
---
Note: The term "piano tuner" may refer to a person who can tune a piano, but not necessarily do other needed repairs. The term "piano technician" refers to a person who can do more complete service.
---
---
Helpful links:
Protect your grand piano with a 100% Wool String Cover
Piano Moving - "Here To There Movers"
Piano Moving - "McCray's Moving Service, Inc."
Wally Scherer's personal web page.
---
End of this web page.
---